Business is complex. Shifting market dynamics, competing priorities, a stressed workforce - rarely have the challenges been greater.
Winning requires creativity, focus, and adaptability. Not to mention a coach and partner who can help you achieve the results you require.
Global Aperture is a strategic change management firm with a unique approach to problem solving that blends ideas (strategy), people (alignment), and action (integration). Our team is dedicated to help you slice through the complexity, improve focus, and build the capabilities to succeed.
Global Aperture: strategic consulting • focused results.
---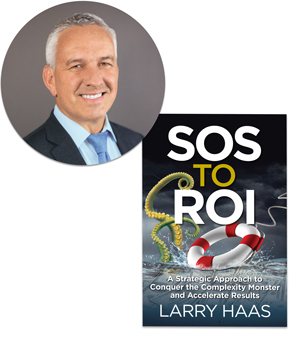 Larry Haas, the founder and President of Global Aperture has written a new book.

SOS to ROI: A Strategic Approach to Conquer the Complexity Monster and Accelerate Results

Don't wait for your SOS moment before you attack the Complexity Monster. This book shows how you can build the organizational capability to perceive, plan, align around, and (amidst complexity) implement the highest-priority changes that will keep your business at the edge of its competitive max. With the advice in this book you can not only make your business system better today, but also build it stronger and more adaptable for the long haul ahead.
---